The year is almost over! As I start to reflect on everything that's happened this year, I am in awe and so THANKFUL. I have met so many amazing people. I've learned so much, and I am so excited to see what happens next. Many of us kick off the holiday season with Thanksgiving. Thanksgiving is full of so many traditions. Football, mashed potatoes, stuffing, the list goes on.
This year, I want to challenge you to continue your traditions, but with a few small tweaks. This year, I want us all to celebrate, but with a little less cruelty. But how, right? I know you don't want to give up your pumpkin pie or turkey. But I'm asking for a little trust here. I KNOW that with a few changes, you can celebrate this season of thankfulness with a clearer conscious and satisfied taste buds.
Let's start with the classics. No Thanksgiving is complete without:
Mashed Potatoes
Pumpkin Pie/Pecan Pie
Stuffing
Turkey
Green Bean Casserole
Apple Crisp
Vegan-ise Your Mashed Potatoes
Now, the two ingredients that keep your vegan relatives from enjoying your mashed potatoes are butter and milk. Luckily, this is a quick fix and you have PLENTY of options. I Can't Believe It's Not Butter has a vegan option, as well as Earth Balance. So keep an eye out for these in your local grocery store, or take a trip to that new hipster grocery place your kids can't afford but go to anyways (Trader Joes, Whole Foods, Turnip Truck, etc).
If you're the kind of person that makes your mashed potatoes from scratch, fear not. You can make your own vegan butter and it's super easy. Like so easy, I might even try it this year.
Now, we're hopefully all familiar with milk alternatives. My current favorite is Oat Milk. Super creamy and makes a delicious latte! Most grocery stores at least carry almond, soy, and coconut by now. So you've got plenty of easy options there, too!
Vegan-ise Your Pumpkin Pie + Pecan Pie
There are so many ways you can do this! Odds are, there's a vegan baker close to you that you can find online, that would happily make these for you. But if not, here's a bunch of recipes I found online (disclaimer: I haven't tried these yet!)
Cooking from Scratch:
Pecan Pie That I can't Wait to Try (major changes – vegan butter and crust)
Vegan Pumpkin Pie 
Store Bought:
Unfortunately I could not find a store bought vegan pecan pie (see gif below for my thoughts on this). BUT I did find a vegan pumpkin pie! You can find it too at Whole Foods!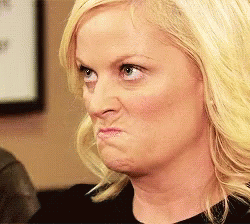 Vegan-ise Your Stuffing
Most store bought stuffing mix calls for chicken broth. A quick change you can make is to opt for a vegetable broth instead! Not sure if you're grabbing a vegan friendly broth? Avoid those with meat titles and check out the ingredients list. At the bottom of your food label, allergen information can be found. So watch for things like "Contains: eggs, milk" etc.
Vegan-ise Your "Turkey"
While you may be nervous about making a big change to everyone's favorite dish, there ARE alternatives. ToFurky has a great Tofu Turkey and Wild Rice stuffing that you can find in stores! The Gardein brand offers a stuffed "turkey" or Holiday Roast option for groups!
BUT – if you like presentation as much as I do, you'll be the most interested in this option. Vegetarian Plus offers a Vegan Whole Turkey. It's shaped and colored to look exactly like a real turkey. Find out where you can find it here!
Vegan-ise Your Green Bean Casserole 
Miniminalist Baker is my go-to vegan recipe holder. She's got a killer green bean casserole recipe that you HAVE to try. Still creamy, still got a bit of crunch, but only 10 ingredients and none that include any animal products!
Vegan-ise Your Apple Crisp

Another holiday must have, is dessert. Apple Crisp is that perfect end of fall treat to complete your holiday (in between pie slices). And can be made vegan friendly very easily! I found a recipe here, that I haven't tried yet, but I will tell you that it seems to have everything covered! Now, for someone who doesn't cook often, it looks like a lot of work. I haven't had any luck looking for a store bought/premixed option, but I will be sure to share it if I find one!
*if beer is you're thing, you have another opportunity to be cruelty free this year. You may be surprised to find out that some beers are processed with animal products or additives. Luckily, Peta has a complete list of beers that are vegan friendly!
Now, I understand that this may be a lot to take on. It can definitely be intimidating. If you decide to have turkey at your holiday celebration, I hope you don't feel judged. But I know that there are MANY of you who would like to have a positive impact on this world, and making these small changes (even just one at a time) is a great way to start. So I'd like to challenge to you switch up at least one dish. Try tweaking just ONE of your recipes and having a less cruel holiday. This will probably be the ONLY time I share recipes with you guys, so let me know how it goes and don't expect this often haha!